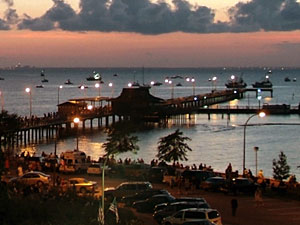 Welcome to the Leland Baggett Real Estate Appraisers website.
We provide you with over thirty years of experience in appraising and consulting in the real estate of Baldwin County, Alabama. (above is the Fairhope Pier at dusk, in the top left is the historic Middle Bay Lighthouse)

We're an appraisal service in Baldwin County providing appraisals for:


FHA Mortgages
VA Mortgages
Tax Appeals
Primary and Secondary Mortgages
Mortgage Refinancing
Employee Relocation
Private Mortgage Insurance Removal
Estate Planning
Divorce Settlement
Litigation
Possible Sell or Purchase
Commercial
Residential
The most highly certified and experienced appraisal service in Baldwin County, AL. We offer:
Over 50 combined years of experience
Short Turnaround Times
Highest Quality Appraisal Reports
Competitive Pricing
Professionalism
State Certified Real Property Appraisers
Leland Baggett is a SRA member of the Appraisal Institute

For any questions about Baldwin County real estate please don't hesitate to call. We can be contacted in Robertsdale at (251) 947-2700 and in Fairhope at (251) 928-7778.

We look forward to working with you!